21st century capitalism through a 1st century worldview! (MBA and Christianity??)
It simply amazes me that with all our progress and all our magnificent universities of learning that have no comparison throughout history, the majority of humanity is still bound by the ancient beliefs from a time when humanity knew very little about anything!
Perhaps the reason is that we do not have a solid explanation for these basic questions and therefore invent stories to comfort us against the terror of simply not knowing?
1.) Where am I from?
2.) What am I?
3.) Where am I?
4.) What does the source, the origin of all creation?
So what spurned this post? We'll this advertisement I just saw on Facebook.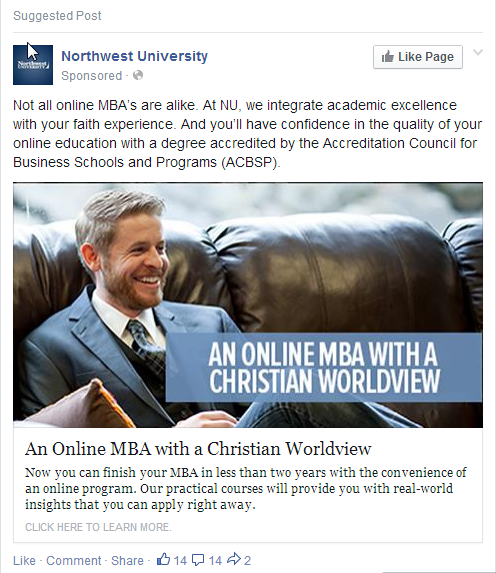 Being rather familiar with Christianity, I have a hard time reconciling true Christianity with an MBA. An MBA is learning how to best increase profits, nothing more. True Christianity is divesting yourself of all you own, your family, friends and following Christ. I fail to see how the two are compatible.
This world I live in seems to get more ridiculous as time goes on.
Just for the record I wonder how Christians would react if they saw an advertisement for an MBA with a Muslim worldview, or a Jewish worldview? This just shows that the people who created this add live in a bubble and know very little about the rest of the world. Therefore, why value is their "worldview?" It would be like asking a child their opinion of a college course!